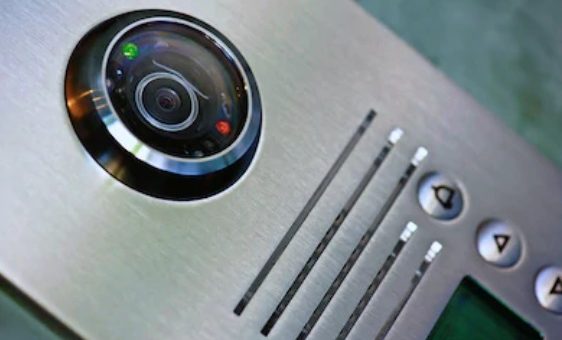 When it comes to a simple device that brings vast benefits, the doorbell camera has to be right up there with the best. Anything that adds to the security of your home is a great addition, and a front doorbell camera can be installed as a stand-alone device or integrated into an existing or bespoke security system.
The following discusses the many reasons why so many people are choosing to add such a device to their homes.

Benefits of a front doorbell camera
See who's at the front door from anywhere in the house: Go on… Hands up who's deliberately ignored a knock at the door in case it's 'that' person whom you don't particularly want to see? Whether it's an unsolicited sales call or someone you're actively avoiding, being able to visualise who's ringin' that bell without the need to go to the door will be something that, once installed, you can't imagine ever having lived without.
It's a relatively inexpensive security option: The installation of either a wired or wireless system is an inexpensive method of further securing your home. There are various types available, from base-level options that work via Wi-Fi to your smart device right though to those that integrate with other smart devices in the home such as locks, fire alarms and high-resolution video surveillance.
Use as a virtual assistant for deliveries: In the age of online shopping it's a lucky person who's not either waited in for a delivery that doesn't arrive or had that dratted card waiting when you arrive home saying they 'tried to deliver your parcel' but you weren't in. A front doorbell camera gives you the ability to talk to the delivery guy whilst he's on the doorstep and tell him where to leave your parcel. It'll also prevent the undesirable situation of the driver leaving your goods outside – a sure-fire temptation for the less scrupulous to simply pick them up and walk away…
Know who's visited, even when you're not at home: Doorbell cameras can alert you when a visitor arrives via your chosen smart device. You can either choose to answer and speak to them or, if unavailable, see who it was via the automatically captured image complete with time and date.
Can lower your home insurance costs: Many providers now offer discounts to those who use various smart devices, including door cameras, to further secure their home.
Increases property value: Security features add value to a house and can be a real selling point if and when you put your home on the market.
Can be an aid to independent living: Thanks to being able to see who's at the door and have a conversation with them, such a camera is a huge boost to anyone who might be incapacitated for any reason. It can also provide huge peace of mind, especially to the elderly who might not want to go to the front door to speak face-to-face with an unsolicited caller.
A powerful deterrent: Criminals will always look for the easiest option. Security features, such as a front doorbell camera, can have a massive impact on persuading such unscrupulous types to give your place a miss and look elsewhere for easier spoils.
Can record video footage: In the unfortunate event that your home is broken into the camera may well capture images of the culprits. This can then be used by the police in their investigations.
A doorbell camera can be the ideal starting point for a home security system, especially one that's professionally installed and that has the option of being added to at a future date. As home security specialists, we work with our customers to ensure that any new feature is fully future-proof, ensuring that when the time comes to fit additional measures that those already in place can easily be integrated.
Our highly specialised team will be happy to chat with you about your current and future home security needs, including the latest in front doorbell cameras. Give us a call on 08 9400 6000 for a no-obligation chat.
Posted by admin
On 24/11/2019