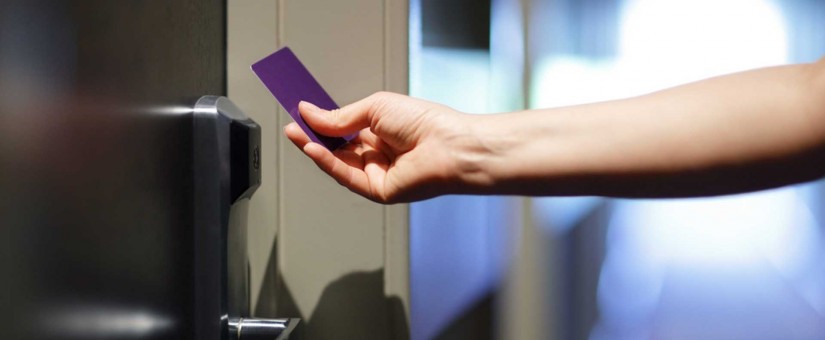 Security is a concern for every business.
Whether you own a small family business or run a major operation with thousands of people in multiple sites around the country, protecting your staff, your equipment, your information and your intellectual capital is a top priority.
Things like door locks, perimeter fencing, alarms and surveillance cameras play an important role in deterring and preventing intruders but with crime on the up and criminals becoming increasingly smarter, it's never been more important to have robust integrated security measures in place to protect your people and your assets.
That's why you should have a good look at your access control systems.
Do you know who is coming into your building every day? Do you know who has access to your sensitive information? Do your employees feel safe at work?
An effective access control system is much more than a door-opener for your staff and visitors. It puts you in charge of your security, enables you to set restrictions and clearances for certain areas, prevents data breaches, provides a full audit trail of employees' movements, reduces the risk of human error, increases safety, security and productivity and can save your organisation money. With all those upsides, why wouldn't you want to install a quality access control system in your business?
We've been around for long enough to know just how valuable an access control system is – even for a small business. Of course, a lock-and-key system can still work, but the possibility of a key being lost, falling into the wrong hands or the key holder not always being able to be there on time to open up or lock up is ever-present.
Here's what we have learnt from years of experience in security and access control systems in Perth:
Protect against external threats. Your employees and your assets are protected against unauthorised entry and anyone who doesn't have the appropriate credentials or permission won't be allowed to come onto the premises.
Set restricted areas which require special clearance to enter. You have the power to monitor and manage permissions to enter and exit nominated areas of your business which means you can add extra layers of protection to important workspaces or sensitive information.
Prevent data breaches. Access control systems do much more than just manage entry and exit from your business premises – you can also use the system to control access to your computer network.
Emergency lockdown. Your access control system will help you to manage a security breach or emergency lockdown situation more efficiently. You can use the system to account for the whereabouts of all employees and can restrict or enable permission of all those entering and leaving the building.
Improved administrative procedures. An electronic access control system provides a full audit trail of personnel – the exact time when they arrived in the building, where they went and when they left – so you can use that information for productivity purposes, staff training, settling disputes, disciplinary action, identifying perpetrators in the event of equipment theft and data breaches etc.
Bottom-line benefits. An electronic access control system can help your business save money and reduce costs. They can eliminate the need for a manned security presence and reduce the need for complex systems of keys, plus an integrated system can save energy costs by switching off unnecessary lights when the premises is unoccupied and controlling the temperature of the building.
Improved peace-of-mind. With security top-of-mind these days, your employees will be happier knowing they are safe and protected in the workplace.
From a simple system with key cards or pin codes to more complex ones which can involve biometric scanners, high-speed readers for automated vehicular access through electronic gates, integrated alarms, automated lighting, remote locking and video surveillance, there's no doubt that access control systems have a crucial role to play.
At Crown Security, our access control systems are high-tech but are very easy to implement, use and maintain and we can customise any system to suit your operation's unique needs. Get in touch on 08 9468 6658 about an obligation-free quote for a cost-effective, high quality access control system and see how our experience, expertise and world-class solutions can elevate your business security to the next level.
Posted by admin
On 11/08/2018