As one of the largest livestock centres in the state, the WA Meat Industry Authority utilises a 112 camera enterprise-grade CCTV system to count livestock, track movements, and audit the allocation of animals between pens.
Maintaining the site's CCTV system is time-consuming, with manual inspections required because of factors such as dust on camera lenses and damage caused by cockatoos chewing on cables.
Crown Security prides itself on its experience and in-depth knowledge of its products enabling them to devise comprehensive plans to meet our client's individual circumstances. With this in mind, Crown deployed Permaconn PM54 high-speed managed routers with the CheckMyCCTV remote camera maintenance software. The combination of the PM54 and CheckMyCCTV proactively identifies and pinpoints maintenance requirements before they caused any problems for the Authority, with features such as:
high definition CCTV in real-time,
24/7 automated remote checking for detecting if a camera has developed a fault or is tampered with, if the camera images are too bright or dark, out of focus, or out of alignment,
alarm, router and hotspot features working simultaneously,
a 4G fall-back if the site's primary IP connection fails,
an interactive dashboard shows the status of installations on one page, and the Web Viewer allows status checking of systems on the go.
Within one week the system identified several instances of damaged wires and detected cameras with dirty lenses, allowing Crown Security to deliver targeted maintenance services and greatly increase the uptime and performance of the system.
Crown Security Managing Director, Steve Aldridge, says the entire site is now visible on camera and livestock can be monitored across delivery to shipment. "We maintain the site for camera cleaning, and we had Permaconn add CheckMyCCTV to the system for 24×7 proactive monitoring", Aldridge says.
Read the full case study below and then contact our team for an obligation-free commercial security consultation to design a plan to suit your needs.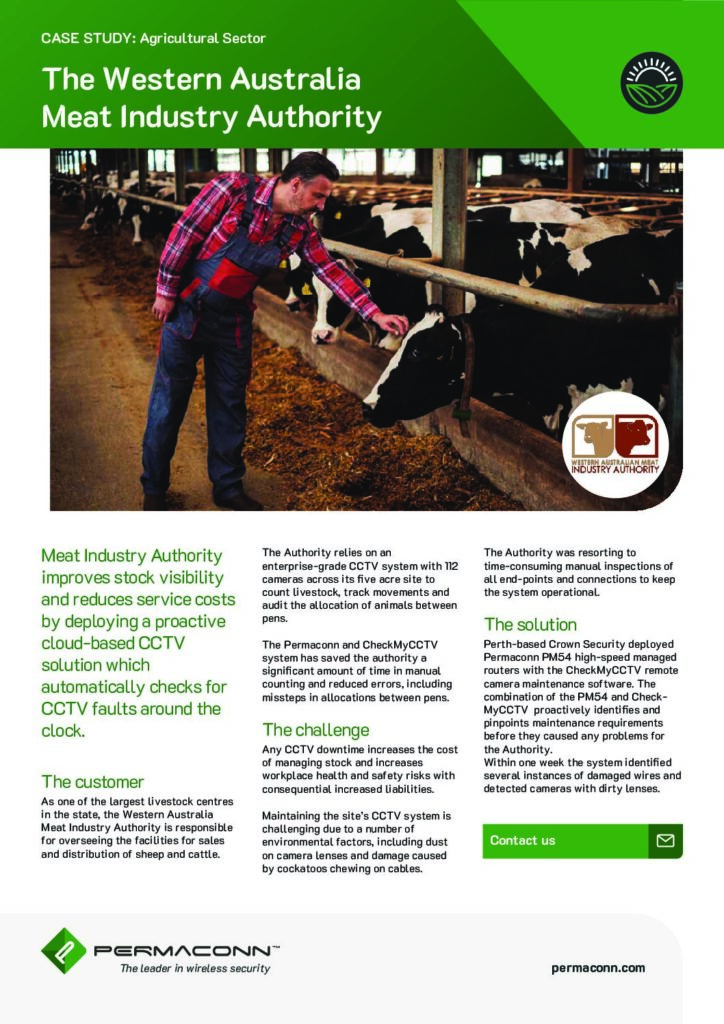 Posted by admin
On 18/06/2021